Hey dudes. Silvite Soltis back with another list for you today!
Everyone knows that WoW Classic is all about the journey - leveling to 60, doing dungeons with your friends, and raiding with your guild for hours at a time. But, of course, that's only part of the picture, isn't it? After all, isn't one of the biggest goals - in any video game - to be the best you can possibly be? Well I believe so, and I'm sure many of you agree with me. As such, I thought it would be fun to look at some of the most iconic loot that Classic has to offer.
Of course, I've already made a Top 5 Tier sets, and covered dungeon sets extensively. So in this post, and a few more in the series I have planned, I decided to go through my favorite weapons in World of Warcraft: Classic. Keep in mind that these are just my opinions, and that these lists are based on my taste in the visuals and the feeling of accomplishment these items award. Eventually, we'll look at the swords, daggers, ranged weapons, and more, but for now, let's get right into it: starting with the staves!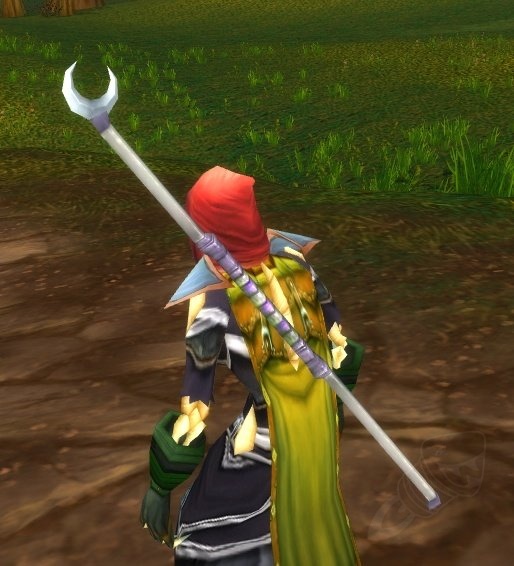 Crescent Staff
Many Horde characters, especially casters, will tell you how iconic this staff is to their early leveling experience. Though simple in design, the Crescent Staff is a reward from the main quest line of the Horde's second dungeon, Wailing Caverns. Of course, the Staff of Orgrimmar comes first in one's leveling journey, but this staff from collecting the gems of the Serpent Lords is considerably more powerful and is likely the first blue new Horde players will equip in their leveling journey. Those triple-sevens are nice, the damage is decent, and it's looks are unparalleled in those early 20s...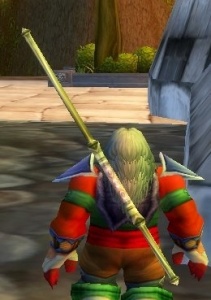 Staff of Westfall
Similar to the Crescent Staff for Horde, the Staff of Westfall is often the first blue item that many Alliance players obtain. It's a reward from the epic Defias Brotherhood quest chain, spanning the zones around Stormwind and concluding in the Deadmines - the first dungeon that most players have traditionally experienced. This staff, though simple in design, feels like a just reward for us adventurers who uncovered the secrets of that rogue organization of former stonemasons, stormed their base, and took out their leader in order to protect our beloved kingdom. And it's for that reason that I've included it here, at number 9...
Staff of Hale Magefire
There's not much to say about this staff. I just love the design of the staff holding up an encircled magic flame. Actually there are a few staves like this - such as
Staff of Metanoia
, for example - so really, number 8 could be any of those. It's really just a cool looking staff, in my opinion. And it's one that I hope I get to rock on an alt someday...
Warden Staff (the stats really make it imo)
The only non-caster staff on this list, the Warden Staff is a unique and widely sought after staff for any and every feral tank in Classic. Though simple in design, the stats and the simple fact that it can be used all the way from level 43 through Naxxramas by those big, lovable bears is reason enough in my book to give it my personal seal of approval. An interesting staff with great utility for one of my favorite classes.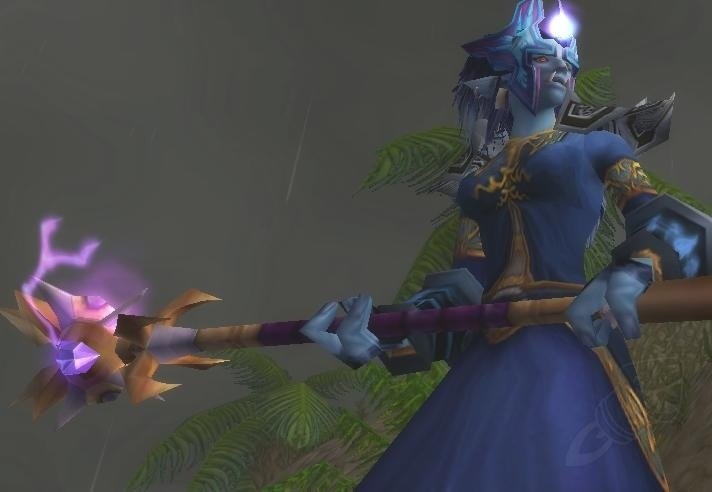 Staff of Dominance
This epic staff, crackling with arcane power, is a mage's wet dream. A drop from Golemagg the Loot-Giver in Molten Core, this staff exudes an aura of absolute domination - hence its name. When I first saw someone walking around Ironforge with this staff back in vanilla, I remember thinking how amazing it looked. And now that I'm experiencing MC with my guild over on Mankrik, I can say that this was a much sought-after item...until we got Mageblade drops 4 weeks in a row, that is...
In short, it's a cool looking staff with great stats that MC raiders all love.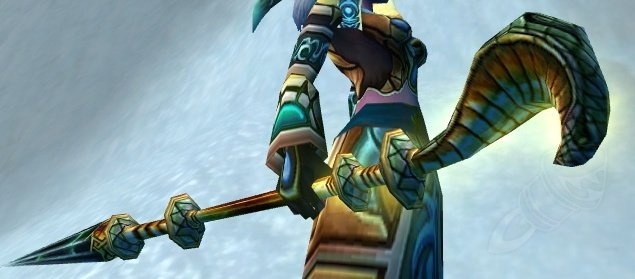 Will of Arlokk
Though not yet available in Classic (releasing with Zul'Gurub later this year), the Will of Arlokk has got, in my opinion, one of the coolest designs of any staff in the game. The head of this staff is a freaking cobra! What more is there to say about it?
The looks aren't the only awesome thing about it though! It's got great stats for healers (especially druids) - with tons of spirit and plus healing for those fights that just drag on. What's more, it can possibly be obtained once every 3 days, since ZG is on a shorter reset timer than other raids in Classic. Oh, and did I mention it's a freaking snake staff! Live out your Jafar fantasies, healers!
Headmaster's Charge
Heading into the final stretch of my list here, we have the one epic that I REALLY wanted to get back in the day. As you might know from seeing some of my Top posts, Scholomance is, by far, my favorite dungeon in Classic. And from the final boss, Darkmaster Gandling, this epic staff drops. This weapon is fairly simple in design, especially when compared to the epic-looking staves in the raids later on. But as a dungeon drop, it looks awesome. The horned skull with unholy green skulls dancing around it just looks so sinister! Plus, it has the unique on-use effect of buffing your party's intellect - a great boons for warlocks and priests when a mage proves oh-so-elusive.
Pretty much, it's just the cool looks and the epic quality of this dungeon drop. Love it.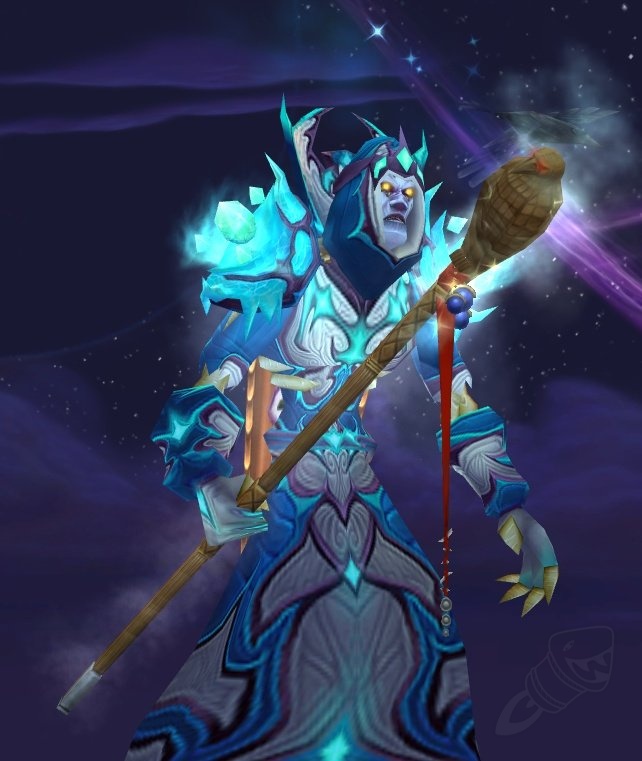 Atiesh, Greatstaff of the Guardian (Mage)
Because it had to be up here, right? The legendary Greatstaff of the Guardian, Atiesh, is possibly the most iconic staff in all Warcraft lore. It's right up there with Gorehowl and Frostmourne in its name recognition and is the best weapon for priests, druids, warlocks, and mages all the way up through Tier 4 content (assuming Classic continues into BC, that is).
Obtaining this birdie-stick is no easy feat, though. To collect it, one must be in a hardcore raiding guild farming AQ40 and Naxxramas to collect the base, head, and splinters needed to reassemble this bad boy. The work is definitely worth it, though, as each class that can potentially wield this powerhouse gets its own variation - complete with different stats, abilities, and, of course, ribbons!
As simple as the design is, Atiesh deserves a spot on any top weapons list simply due to its sheer badassness. And that's why it's here at number 3! But, of course, that leaves 2 more staves to discuss...
Staff of the Shadow Flame
This. Staff. Is. Epic!
With one of the most badass models in all of Classic, and absolutely insane stats, it's hard to argue with how amazing the Staff of the Shadow Flame is. First of all, it's got everything your caster could want: intellect, 2% spell crit, and a whopping 84 plus damage and healing. You can expect that every mage, warlock, and more will be banking their DKP for this bad boy.
The stats aren't everything, though! This staff's model is one of the coolest in all of WoW! With the dragon skull atop a spine of sinister spikes, it instills fear into one's foes from a distance. Combine this with some warlock tier 2, and you'll look like one bad mother too!
Sure you could get the
Shadow Wing Focus Staff
from the 3 drake encounters of BWL, but that ear of corn on a stick just doesn't compare with this masterpiece of raid loot from the Lord of Blackrock himself. It is, most definitely, a fitting piece of loot for the vanquishers of Nefarian!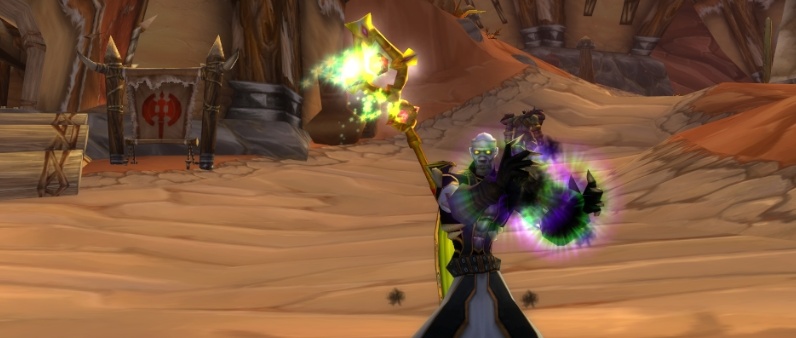 Benediction
Ahh, was there every any doubt? Benediction and Anathema are, without a doubt, my absolute favorite staves in World of Warcraft. The amazing, healing golden color of Benediction is iconic of the healers in any Classic guild, and the sinister shadowy sparkles of Anathema give away a shadow priest from 10 miles away.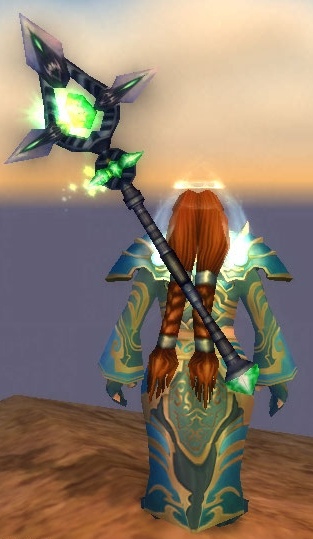 Anathema
Technically two staves, this priest pair is the epitome of an epic staff. The item required to unlock the quest chain, the Eye of Divinity, drops from the penultimate boss of the first raid of Classic - Molten Core's Majordomo encounter. After finally getting this item (seeing probably 34 Petrified Leaves in the process), the priest can travel to Eris Havenfire in the Eastern Plaguelands to complete a quest unlike any other in Classic - the Balance of Light and Shadow. Only after saving 50 peasants while not letting even 15 perish can one obtain the Shard of Nordrassil. And when the hopeful priest combines this fragment of the World Tree with both the Eye of Divinity and an Eye of Shadow (a difficult item to obtain in its own right), Benediction, and thus also Anathema, is finally awarded.
Obtaining these powerful staves is a rite of passage for every priest in Classic. The feeling when an Eye finally drops for your guild, the exhilarating rush of adrenaline when healing the peasants during the quest, and the feeling of accomplishment when you finally combine those items and obtain that shiny staff at the end all make for an unforgettable experience. Sure, there's the legendary Atiesh and the fantastic staff from Nefarian which are both amazing weapons, but for me, and many others, Bene-thema reigns supreme. And that's why it's my number 1 pick for Classic Staves of World of Warcraft: Classic!
Conclusions
So, there you have it: my Top 10 Staves of World of Warcraft Classic. Obviously, there are tons more staves, and even more weapons, available in the game, but these are just my personal favorites. Classic is a huge game, after all, and with so many players, we're bound to have different preferences though. As always, I'd love to know which staves you think are the coolest, most interesting, or favorite in a different way, so feel free to leave a comment down below with your own opinion as well.
But, that's it for today. If you enjoyed this post and feel that it inspired you to go out and get a magic stick, feel free to add yourself to my mailing list to get notified about the next post too! Follow me on
Facebook
and
Twitter
for other updates, and consider checking out my videos over on
YouTube
as well, if you're into that sort of thing. Thanks a lot for reading. And as always...
Take it easy!